Luxury wine cellars: Showcasing your collection in style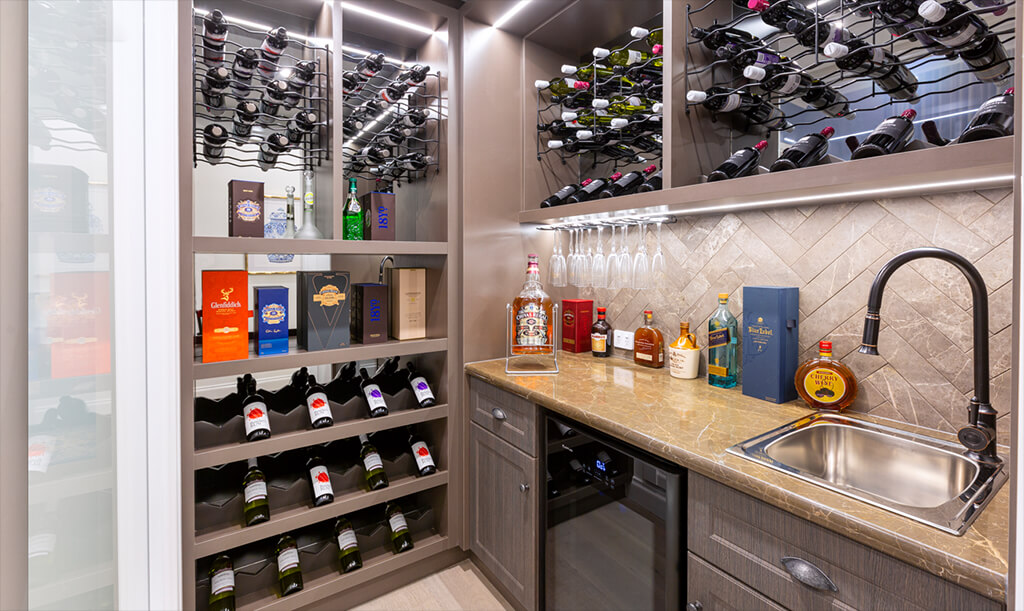 When it comes to the epitome of luxury living, Atrium Homes knows that creating a wine cellar isn't just about storing wine; it's about showcasing your collection in style. Let's explore the art of wine cellar design and discover how it can elevate your home.
Temperature and humidity control
The foundation of any wine cellar is temperature and humidity control because fine wines require a precise environment to age gracefully and maintain their quality. Wine cellars are designed to provide stable conditions, with temperature and humidity levels tailored to the needs of your collection. This ensures that every bottle you store, whether it's a prized vintage or a special selection, matures to perfection.
Proper storage
Proper wine storage is more than just putting bottles on a shelf. Atrium Homes' wine cellars are equipped with wine racks and shelving designed to cradle each bottle on its side. Why is this important? Storing wine horizontally keeps the cork moist, preventing it from drying out and letting air seep in. This safeguards the integrity of the wine, preserving its flavours and aromas. With Atrium Homes, your wine cellar becomes a masterpiece of both form and function.
Ageing potential
Wine enthusiasts and collectors understand the value of ageing potential. By providing the ideal environment for ageing your wines, you can enhance their flavours and complexity over time. This transformative process can turn a good bottle into an exceptional one, making your wine cellar a treasure trove of potential experiences. Imagine savouring a perfectly aged wine with friends and family, a testament to your investment in quality living.
Resale value
Luxury features like a wine cellar can significantly impact the resale value of your property. Atrium Homes' wine cellars are designed not only for personal enjoyment but also as an attractive feature for potential homebuyers. Imagine the allure of a beautifully designed wine cellar, complete with your curated collection. It can set your home apart in the real estate market, potentially increasing the overall value of your property. A wine cellar is not just a storage space; it's a unique selling point that appeals to connoisseurs and those with an appreciation for the finer things in life.
A wine cellar is more than a place to store bottles; it's a testament to your passion for the finer things in life. With precise temperature and humidity control, proper storage solutions, the potential for ageing wines, and the added benefit of increasing your property's resale value, a wine cellar is a statement of luxury. If you want to include this feature in your home, or learn more about our design process, please don't hesitate to  contact us or call 6310 8888 for a no-obligation discussion.